Servicing the North Shore for over 30 years, we pride ourselves on achieving a high level of service and delivering a great brush fence. Based on your land and requirements, we will work with you to find a fencing solution that works for you. View some of our latest brush fence projects below to see what we created based to fulfil customer needs.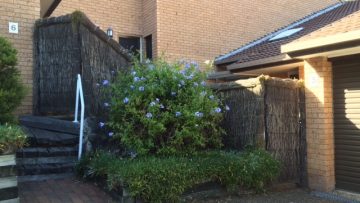 We Provide Our Clients with Beautiful Natural Fencing that Lasts
If you are looking for a team that can help you add beautiful natural fencing to your property, look no further. We ensure you have the perfect fences, tailored to your precise requirements and landscape. Choose North Shore Brush Fencing for excellence in brush fences.
Benefits of Using Our Services When You Need Excellent Brushwood Screening
Whenever you need low maintenance fencing, you will always experience the following benefits when choosing us:
We work efficiently and provide excellent quality services from start to finish to ensure the process goes smoothly and to your expectation. We clean up properly and leave the site looking better than it did when we started.
We tailor our fences to your precise requirements. Not all landscapes look the same, and some will slope significantly more than others, or have other obstacles that we will need to work around. We ensure that regardless of the site, you get excellent results every time, tailored to your precise needs.
We provide you with personal service. We always work with you to understand what you need and to ensure your satisfaction. If you have any questions, we can easily answer them, and if you need anything else, all you will have to do is ask.
We understand that when you need quality fencing, you want to ensure you choose the right team. We provide you with excellent quality services tailored to your precise requirements and always work hard to deliver satisfaction every step of the way, and even beyond that.
Additional Services We Can Provide if You Need Low Maintenance Fencing
Here are a few additional things we can help you with should you need our brushwood screening services:
We can provide you with both panel and hand thatching fences so that you get the fences you need and the fences that suit your property. If you are uncertain which would work best, simply enquire with one of our professionals and you will have all the information you need to make your decision.
We provide a comprehensive fence repair and restoration service so you can rest easy knowing that your fences will last for as long as you need them to. Our fences are already low maintenance, but we understand that sometimes unforeseen circumstances can damage them. If this does happen, all you will have to do is give us a call.
We can provide you with compliant pool fences. Not only will they look fantastic and add a nice natural feeling to your area of relaxation, but these fences come entirely compliant with all necessary regulations.
Why Trust Us When You Need Reliable Brushwood Screening that Lasts
With more than 30 years of experience providing clients with excellence in low maintenance fencing, you will never go wrong with us. We understand the industry and work closely with your requirements to always ensure a satisfactory result.
Whether you need a new fence or to repair an old one, we bring everything you need and more every time you work with us. Ensure your fences not only look fantastic but last for as long as you need them to. Call us now and secure your beautiful new fences.
©North Shore Brush Fencing. All Rights Reserved.