Brushwood fences are a low maintenance, long lasting, beautiful fencing solution.
To increase its longevity, protect the fence and its look, periodic maintenance is recommended. This simple maintenance only needs to be done every 5-8 years with the application of a new brush roll capping.
If your fence has deteriorated where a brush roll capping will not solve the problem, we can easily rebuild your brushwood fence.
Brushwood Roll Cap Repairs are where we feed new brush into the fence on both sides. This brings it back to its original height (or higher if desired) and makes the brush throughout the fence look fuller again.
With our Brush fence repairs, North Shore Brush Fencing only use full bundles of brush, not off cuts. This ensures we achieve the best results and prolongs the life of the fence. The fence is then re-clipped, wires are straightened and the new brush roll capping applied.
If you are thinking of selling; brush fence repair is a great quick and easy way to enhance the look of your property and get a better sales result.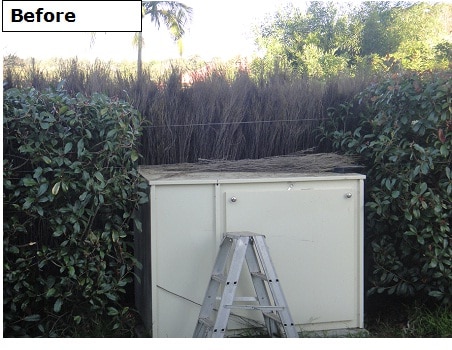 We pride ourselves in the prompt, professional manner in which we conduct our work and we are so confident in the quality of our work that we offer a written guarantee, covering our work for 5 years!
See recent Brush Fence Repair Jobs we have completed here.
You can expect more with North Shore Brush Fencing!
Call 0410 695 956 or email northshorebrushfencing@gmail.com for a free quote.
North Shore Brush Fencing will supply all materials and remove all rubbish on completion of the job.
Professional Brush Fence Repairs in Sydney
Is your old brush fence looking a bit worse for wear? A brush fence is a thing of beauty, going a long way toward enhancing your outdoor area with a natural feel, not to mention the excellent sound absorption qualities, drowning out the sounds from the street and the neighbours. We offer professional brush fence repairs in Sydney.
At North Shore Brush Fencing, we take pride in our work. We've been doing it for over 30 years, after all. No matter what your fencing requirements, we will exceed every expectation with excellent work and our cost-effective brushwood fencing prices.
The Benefits of Brushwood Fence Installation
Brushwood fencing is unique and beautiful, bringing your garden closer to nature. If you are tired of the dullness of concrete and cement and want something completely different to enhance your garden while at the same time ensuring your privacy, there is nothing better than a brushwood fence.
A brushwood fence installation is an ideal solution for any backyard or garden. It blends in perfectly with the surroundings and is entirely customisable to accommodate the shape of your garden, whether it slopes or has weird corners. A brushwood fence will undoubtedly enhance the aesthetic appearance of your property.
In addition to being beautiful, a brushwood fence will, despite appearances, keep the noise out. It is excellent at sound absorption, ensuring that you can enjoy your garden without being bothered by noise from the neighbours or the traffic.
Brushwood fencing prices are refreshingly cost-effective, given its longevity. The average brushwood fence, if correctly maintained, should last for up to 30 years. That is excellent value for money considering it is one of the most attractive forms of fencing around.
What You Can Expect From North Shore Brush Fencing Regarding Brushwood Fence Installation
With more than 30 years of experience in the installation, maintenance and repair of brushwood fencing solutions, we've encountered – and overcome – just about every problem you could throw at us. No matter how challenging or ambitious your fencing project, we have you covered with friendly and professional service and outstanding workmanship.
We offer the best customer service and support in Sydney. From first contact to final signoff, you will experience customer service like never before. Our friendly and professional staff will ensure that your project goes off without a hitch, keeping you fully informed and updated at all times.
As one of the oldest brush fencing installers in Sydney, the quality of our work is beyond compare. We aim for complete customer satisfaction, and if you are for whatever reason, not completely satisfied with our work, we will come back and fix it, no questions or complaints.
Our brushwood fencing prices are reasonable. Considering the longevity of a properly maintained brushwood fence, we are downright cheap. Plus, you will be hard-pressed to find work of this quality at a better price anywhere in Sydney.
About North Shore Brushwood Fencing
We are a leading brushwood fencing installation, maintenance and repair company, proudly serving the communities of Sydney for the past 30 years.
Our reputation for excellence is well-known throughout Sydney and is reflected by the thousands of happy customers that we have served over the years.
Contact us today for more information.